NEWS: Lyme isn't the only risk from ticks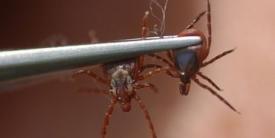 The incidence of babesiosis, a tick-borne infection often transmitted at the same time as Lyme disease, is rapidly rising in the Cape Cod area.
When Susan Finnegan didn't get better after being treated for Lyme disease, the Brewster woman knew something else was going on.
She experienced "extreme fatigue," burning pains, fevers, chills, sweats and shortness of breath.
"You feel like you can never breathe in enough air," Finnegan remembered.
Further testing revealed she had acquired a malaria-like illness called babesiosis. It was transmitted by the same type of insect that had given her Lyme disease — the deer tick.
Babesiosis is one of several tick-borne illnesses afflicting residents of the Cape and Islands.
Although small in number compared to the 4,000 Lyme disease cases diagnosed in Massachusetts annually, cases of babesiosis are increasing rapidly, and nearly half of them occur in Barnstable County.