OPINION: Hitting the nail on the head; Dr. Betty Maloney tells it like it is about Lyme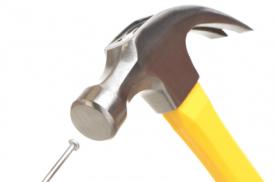 Minnesota Lyme activist Dr. Betty Malone says it's not enough for the public to be aware of Lyme disease, they must also be aware of the Lyme debate. "Much of what is proclaimed as 'truth' in Lyme disease is based on insufficient evidence. There simply are not enough properly performed studies to establish any single approach to the illness as scientifically correct."
.
Learn the truth about Lyme disease
by Dr. Betty Maloney
, Lyme disease education advocate
May is Lyme disease awareness month and although the Press has carried articles, commentaries and letters on Lyme disease, many in this community need to hear more about the illness. But first, we need to talk about truth.
Consider what historical figures said about truth and lies. Explaining his propaganda efforts, the Russian dictator Lenin stated: "A lie told often enough becomes the truth." Decades later, FDR countered with: "Repetition does not transform a lie into a truth." Mark Twain, knowing how quickly each spreads, remarked: "A lie can travel halfway around the world while the truth is putting on its shoes."
Let's tie truth to Lyme disease awareness. The medical discussion on Lyme disease has primarily pitted the Infectious Diseases Society of America (IDSA), a well-funded and connected medical society with more than 9,000 members, against the much smaller International Lyme and Associated Diseases Society (ILADS). (Disclosure: I belong to ILADS) IDSA is very media-savvy and able to control the flow of information on Lyme disease, bombarding general and medical media outlets with its messaging. The sheer volume and repetition of IDSA press releases and IDSA-friendly articles makes it difficult for anyone to learn the details of the opposing view; by monopolizing the coverage of Lyme disease, awareness of the debate ceases and the IDSA view becomes fact.
I want readers to be aware of the disease itself, but to also be aware of the debate. Most importantly, both the general public and my medical colleagues need to be aware of this fact: Much of what is proclaimed as "truth" in Lyme disease is based on insufficient evidence. There simply are not enough properly performed studies to establish any single approach to the illness as scientifically correct. This is especially true when it comes to the issue of chronic Lyme disease. How did the prevailing IDSA view, that Lyme is easy to diagnose and cure, come to be ingrained? Here Lenin was right, repetition won out.
Examining the deep divide between Lyme disease patients and mainstream medicine, I was struck by the level of anger expressed by some on either side of the issue. Never in my career — with the exception of the early days of HIV — had I heard of the patient and physician communities being at such loggerheads. As a family physician, I know medicine cannot fully explain many conditions, so I'm inclined to accept patient stories at face value. This left me wondering: "If patients are right, how did we get Lyme so wrong?" I decided to look at the evidence for myself; what I found is startling.
Lyme disease is a complicated illness caused by a complex bacterium; it is not the black-and-white illness portrayed in simplistic review articles and lectures. And studies investigating the possibility of chronic Lyme disease were poorly crafted, leaving many questions unanswered. Physicians have been misled. The recycling of the same few studies and erroneous findings through so many medical outlets gave physicians the impression the evidence is rock solid when it's really more like warm Jell-O.
As reported last week, the IDSA review panel voted to uphold its original recommendations. The IDSA press release on this decision was misleading; despite its claims, this was not an independent assessment of the scientific situation. IDSA selected the panel members, decided how much oral testimony to hear and even selected the ILADS speakers. How fair and balanced can a scientific evidentiary hearing be when control of the process is this one-sided? Because the IDSA spin about the process has dominated reports on the panel's findings, physicians and the public are once again misinformed.
Please be aware of other information resources on Lyme disease. Minnesota Lyme Action Support Group holds monthly informational meetings; details at www.mlasg.com. Physicians may attend my accredited course on Lyme disease; the next session is on May 22, 2010. Let's give truth a chance to catch up.
Dr. Betty Maloney is a family physician and Lyme disease education advocate who lives in Wyoming, MN, and practices in Forest Lake.