NEWS: Lyme disease "a living hell" for Montreal physician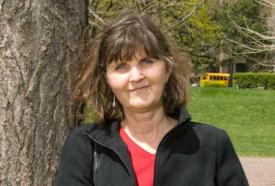 Once unable to find medical care for her own battle with Lyme, this doctor now helps others with the disease.
.
.
.
.
.
.
From the Montreal Gazette:
Lyme disease a 'living hell' for Westmount MD
Physician visited seven doctors but no one could help
MONTREAL – In late July 2002, Westmount resident Maureen McShane was doing some weeding at her cottage in St. Donat.
"I reached behind my knee to wipe some sweat off of my leg when I felt something behind the knee. I pinched off a tiny object, about the size of a poppy seed, and it fell out of my fingers into the dirt."
Thinking nothing of it, she continued working in the flower bed.
"That day in the garden, was to become the start of my descent into … a living hell," the 56-year-old physician said.
"About two weeks later, I awoke with a horrible pain in all my joints. I had neck stiffness, and my muscles hurt. Six weeks later, I had facial and eye twitching and a number of other odd symptoms. It only got worse from there and I soon had chills, sweats and brain fog. I couldn't think clearly and lost my memory moments after I said something. I couldn't sleep."
McShane started consulting doctors in Montreal. "I visited infectious disease specialists, neurologists, rheumatologists, and primary care specialists and visited the emergency room of the Jewish General."
She was evaluated by seven doctors, but no one could help her.