NEWS: Kennebunk town manager, wife fight to educate public on dangers of Lyme disease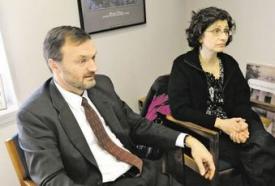 After years of misdiagnosis and despite testing CDC-negative, Maine patient's drastically declining health turned around after being diagnosed with chronic Lyme and given long-term therapy. Now, the husband and wife strive to raise awareness of the increasing incidence of tick-borne disease in their state.
From seacoastoneline.com:
Town manager, wife talk about dangers of Lyme disease
KENNEBUNK — The number of Lyme disease cases in Maine tells a story of its own: the reported cases in York County jumped 62 percent between 2007 and 2008, with the increase statewide climbing an astounding 645 percent between 2000 and 2007.
Those numbers prompted state Rep. Ed Legg, D-Kennebunk to sponsor LD 1709, a bill created to foster better awareness of the disease that has already garnered bipartisan support.
But the numbers only tell part of the Lyme disease story. It's the people affected by the disease who bring those numbers to life, one story at a time.
Joanne Tibbetts is one of those people. The Scarborough mother of three daughters and wife to Kennebunk Town Manager Barry Tibbetts first got bitten by a tick 15 years ago when looking at houses in Alfred.
"I had no bulls-eye rash," she said. "I looked on the CDC site and I was told I had nothing to worry about."
As time went by, though, Tibbetts started to experience what she described as migrating arthritis and joint pain. Then, 10 years ago, after the family moved to Scarborough, things began to change.
Read the rest of the story here.