NEWS: Learning about Lyme disease the hard way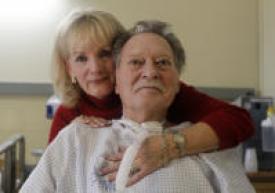 A month ago, Bart Fenolio was told he had Lou Gehrig's disease and had two months to live. Doctors advised his wife, Heidi, to take him home and call a hospice. But Fenolio is proving the doctors wrong. Instead of getting worse, he's growing stronger each day, thanks to antibiotics. That's because he doesn't have Lou Gehrig's disease, which isn't curable. He has Lyme disease, which is
From the San Jose Mercury-News:
Learning about Lyme disease the hard way
Posted: 01/21/2010 05:41:13 PM PST
Updated: 01/22/2010 11:34:54 AM PST
A month ago, Bart Fenolio was told he had Lou Gehrig's disease and had two months to live. Doctors advised his wife, Heidi, to take him home and call a hospice.
But Fenolio is proving the doctors wrong. Instead of getting worse, he's growing stronger each day, thanks to antibiotics. That's because he doesn't have Lou Gehrig's disease, which isn't curable. He has Lyme disease, which is.
Lyme disease, a bacterial illness spread by ticks, is a poorly understood and strangely controversial illness that has been sweeping the country since it was discovered in Connecticut in the 1970s. While still rare in California, there were 28,921 confirmed cases and 6,277 probable cases in the United States in 2008, nearly twice as many as in 1994.
But Lyme experts suspect there could be 10 times that many. That's because when not treated immediately, Lyme can hide in the body for years and then attack, masquerading as anything from heart disease to arthritis to lupus. Folks might not even know they'd been bitten. And the tests for Lyme disease are notoriously unreliable.
Dr. Raphael Stricker, a Lyme disease expert in San Francisco, regularly sees patients who have been misdiagnosed with chronic fatigue syndrome or Parkinson's disease.
"I saw a new patient the other day who had weird symptoms and had gone to the Mayo Clinic for a complete work-up," Stricker told me. "All they could come up with was fibromyalgia," a syndrome characterized by chronic pain, fatigue and depression. Stricker learned that the woman had grown up on Cape Cod, where Lyme-carrying ticks are common.
"How could you miss that little tidbit of her history?" he wondered.
Read the rest of the article here.