NEWS: Tennessee family crusades against Lyme disease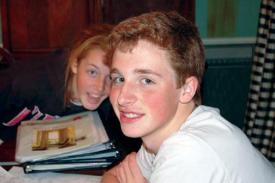 Two Germantown teenagers–brother and sister–have been battling serious bouts of Lyme disease for over two years now. After traveling out of state for treatment and shelling out over $200,000, they are finally showing improvement. Their local newspaper spotlights the family and how they hope to raise awareness of Lyme disease in their community.
From the Germantown News:
Family crusades against disease
By Maxine Hunter
The Lee and Kelly Nanney family of Germantown are on a personal crusade to bring the dangers of Lyme disease to everyone's attention.
Their children, Wilson and Shelby Nanney, both students at Germantown High School, have been in a two-year battle with this disease and still have a way to go. Last year the family had to move to Kansas City, Kansas for seven months to a doctor who used I.V. antibiotics to treat the disease. There the teenagers received daily I.V. infusions through a picc line. "This treatment was five hours a day, seven days a week with hardly a break in between, costing our family upwards of $200,000.00," Kelly Nanney said. "They are much better and we feel as if we may finally be looking at calmer days ahead."
Lyme disease is treatable and may be even curable when diagnosed at the right time, Kelly said. "Unfortunately because of a flawed set of guidelines, doctors are not looking for this and are diagnosing many people with the following syndromes that have no cure: MS (Wilson was diagnosed with MS his freshman year when he was just 15); chronic fatigue syndrome (Shelby's prior diagnosis), lupus, fibromyalgia (with this, you are going to feel as if you have the flu the rest of your life, on pain meds, this is a horrible diagnosis); ALS, Bells palsy, the list goes on."