NEWS: Five in Pennsylvania family diagnosed with Lyme disease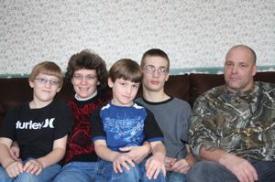 The Wellsboro Gazette, a weekly paper in Wellsboro, Pennsylvania, features a local family coping with Lyme. Five of its seven members have been diagnosed with the disease.
From the Wellsboro Gazette:
Five in family diagnosed with Lyme disease
by Diane Eaton
Published: Wednesday, January 13, 2010 3:12 PM CST
Five of the seven members of the Padgett family of Lawrence Township have been diagnosed with Lyme disease and four of the five are now being treated for it.
Carol Padgett is 42 years old and has suffered from Lyme disease for the past 17 years without knowing it. "I was diagnosed with Lyme disease in June of 2009, just six months ago. I remember being bitten in the fall of 1992 but my family physician treated it as a spider bite. After seeing pictures of a bulls-eye rash, I am sure that is what I had."
A bulls-eye rash is often associated with Lyme, a blacklegged tick-borne disease becoming more prevalent in Tioga County and across America.
Padgett said, "I was diagnosed based on my health history. Then, I got the IGeneX results and I am CDC positive."
To read the rest of this story, click on the attachment below.